Home
Details
Details

Written by Chris Colclough
As the 2012 year end draws ever closer, we like to wish all our friends around the world seasons greetings in their home language, and we do appologise if we miss yours off the list. Lets hope that 2013 brings us all good conditions on the radio and we hope to contact you all at some point.

Merry Christmas and Happy New Year

Nadolig Llawen a Blwyddn Newydd

Buon Natale e Felice Anno Nuovo
Joyeux Noel et Bonne Annèe
Felices Pascuas y Feliz Año Nuevo
Froehliche Weihnachten undein gluckliches Nues Jahr
Kala Christougenna Kieftihismenos O Kenowios Chronos
Wesolych Swiat Bozego Narodzenia
Boas Fiestas e um feliz Ano Novo
From all at the Strumble Head DX and Contest Group.

May we meet on the air sometime in 2013.

And remember, as usual we may be on the air sometime over the holiday period from the farm to celebrate the new year.

Also watch this space for a announcement about a special dxpedition we are currently planning along with our yearly trip over to Ramsey Island.
Details
Details

Written by Chris Colclough
Taken from Spaceweather.com website.
With sunspot AR1618 in decay, solar activity was very low on Nov. 24th. The only break in the monotony was provided by a 500 ton winged spacecraft: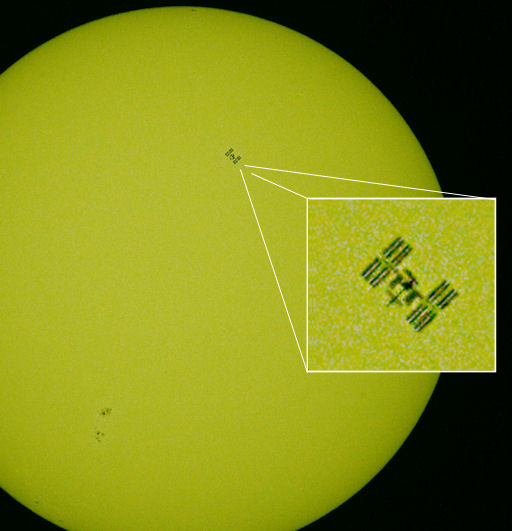 The International Space Station passed directly in front of the sun over Entre Rios, Argentina, where Leonardo Julio photographed the split-second flyby. "I traveled 250 km to be in the path of the transit," he says. "It occurred just as predicted by CalSky."
The sunspot near the bottom of Julio's picture is AR1618. Although the sunspot is in decay, its magnetic field still harbors energy for strong eruptions. NOAA forecasters estimate a 30% chance of M-class flares and a 5% chance of X-flares during the next 24 hours.
LATEST NEWS; The NOAA have now downgraded the geomagnetic storm expected on November 25th as the CME that was expected to hit earth is taking longer than expected to arrive. Hopefully the higher bands will be open for most of the day with some juicy DX to be worked on them in the CQWW CW contest.
Details
Details

Written by Chris Colclough
Taken from Charles M0OXO website.

Team Antigua is saddened to announce that the V26B contest station was totally destroyed by fire on Sunday, November 18, 2012.
Luckily, no one was seriously hurt. The station Owner, Roy V21N, received minor injuries due to smoke inhalation but is OK now.
This station was used by John G4RCG and Bruce KI7VR back in 2006 (V26G). As of now, the future of the station is uncertain. It may be possible to rebuild it, as the antennas and towers were not damaged. However the interior and all equipment, tools and spare parts were totally destroyed.
Click here for pictures of the fire.
Tnx to Brian N3OC & good luck to all Team V26B attempting to resurrect the Station in the months to come
Information from FRC members Sam WT3Q and Dale N3BNA who just operated at the station on behalf of the club during the recent CQ WW SSB ,is that the station location, all the radio equipment and the various award plaques from previous contest wins are all destroyed . The antennas remained intact.
Those involved with the station have vowed to rebuild.
Bud, AA3B was to operate from there, signing V26K, during CQ WW CW contest. he was contacted him to ask what was happening and this is his response:
Hi Bob,
I'm in Antigua. The shack was destroyed but we're going to try and put something together. We'll see,
Bud AA3B
Details
Details

Written by Charles Wilmott
Created on Monday, 05 November 2012 17:40
Homemade HF Amplifier 15KW (4CX10000D)......
Nice !!!!